Lymphedema Treatment - Complete Decongestive Therapy

Lymphedema Prospective Surveillance Program

Breast Cancer Rehabilitation

Phlebo-lymphostatic Edema, Lipedema, Peripheral Edema Treatment

Venous Insufficiency/ Venous Ulcers/ Wound Care

Compression Garment Experts: Evaluation / Fitting - Choose, Measure, Customize, Fit

Follow Up Care during Self Care Management Phase

Orthopedic Treatment in conjunction with Lymphedema Treatment

Wellness services through Mythic Health
Wyatt Rehabilitation is a Physical Therapy & Lymphedema Treatment Center in West Long Branch, NJ that has been helping patients since 2005. We have helped thousands of patients in Monmouth, Ocean, Middlesex, Mercer, and abroad. In 2010 we re-branded with a Gingko leaf that sprouts from our "W" to represent "Strength" for all of our patients--formerly known as the Norton Clinic. Tracey Towlen-Podolsky founded our Physical Therapy group in 2005. Tracey has roots at Monmouth Medical Center where she worked for many years as a Physical Therapist and Lymphedema Therapist with close connections to the Wound Care Center, Jacqueline Wilentz Breast Center, and The Diney Goldsmith Wellness Center which has now evolved to The Cancer Support Community. These ties have grown even stronger in her private practice where Tracey and her staff have treated hundreds of local Orthopedic, Lymphedema/ Venous, and Breast Cancer patients. During Tracey's time at Monmouth Medical Center, Tracey envisioned a Physical Therapy facility with a personal touch and highly Specialized Treatments. Tracey has been building on that vision at her current location. Wyatt Rehab has become one of the top centers for Breast Cancer Rehab, BCRL, Venous Edema, and Lymphedema Treatment in the region- even attracting patients internationally.
Please read through our programs as our Physical Therapists see Sport, Spine, and Post-Surgical Orthopedic cases but also have extensive experience in Physical Therapy for: Breast Cancer Rehabilitation, Breast Cancer related edema, Lymphedema Screening & Prevention, Lymphedema Treatment also known as Lymphedema Therapy, Lipedema, Peripheral Edema Treatment, Venous Insufficiency/ Venous Ulcers/ Wound Care/ Skin Care, and Compression Garments including Compression Sleeves, Compression Socks, and Compression Garments with customization, ordering, and fitting. Please Call For: Physical Therapy NJ, Monmouth County, NJ and Ocean County, NJ.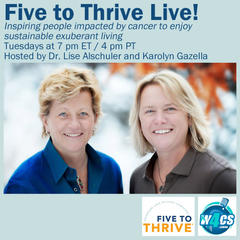 Our Founder Tracey Discusses Lymphedema Treatment on The Cancer Survivor Network